Apple iMac Pro: 
The iMac Pro is the most power Mac Apple has ever made. At its 2017 Worldwide Developers Conference, Apple teased a new desktop computer that's coming December 14. The iMac Pro. As the name suggests, the iMac Pro is a workstation class machine that's aimed at pro users with demanding workflows.
Pricing for the iMac Pro starts at $4,999, and the premium price tag should come as no surprise — this is the most powerful desktop machine Apple has ever built.
The iMac Pro features the same design as the standard iMac, but with an all-flash architecture and a new thermal design that supports an Intel Xeon processor with up to 18 cores and a top-of-the-line Radeon Pro Vega graphics.
The 27-inch iMac Pro is equipped with a high-quality 5K display that supports 1 billion colors and it comes in a unique space gray enclosure with matching (and exclusive) space gray accessories.
iMac Pro features four Thunderbolt 3 ports powerful enough to drive multiple 5K displays at once, and it supports up to 4TB of solid state storage and 128GB of ECC RAM.
Apple will begin taking orders for the iMac Pro on December 14, and it will mark the first step towards a serious effort to meet the needs of the pro Mac user base. Following the iMac Pro, Apple will introduce a high-end high-throughput modular Mac Pro machine that will support future upgrades to increase its longevity.
Design
The iMac Pro looks like a standard iMac, with an ultra-thin slim-bodied design and a minimal footprint, but it is set apart with a unique space gray enclosure and a new thermal design that delivers 80 percent more cooling capacity and 75 percent more airflow to support up to 500 watts of power, which equates to 67 percent more power than the previous iMac.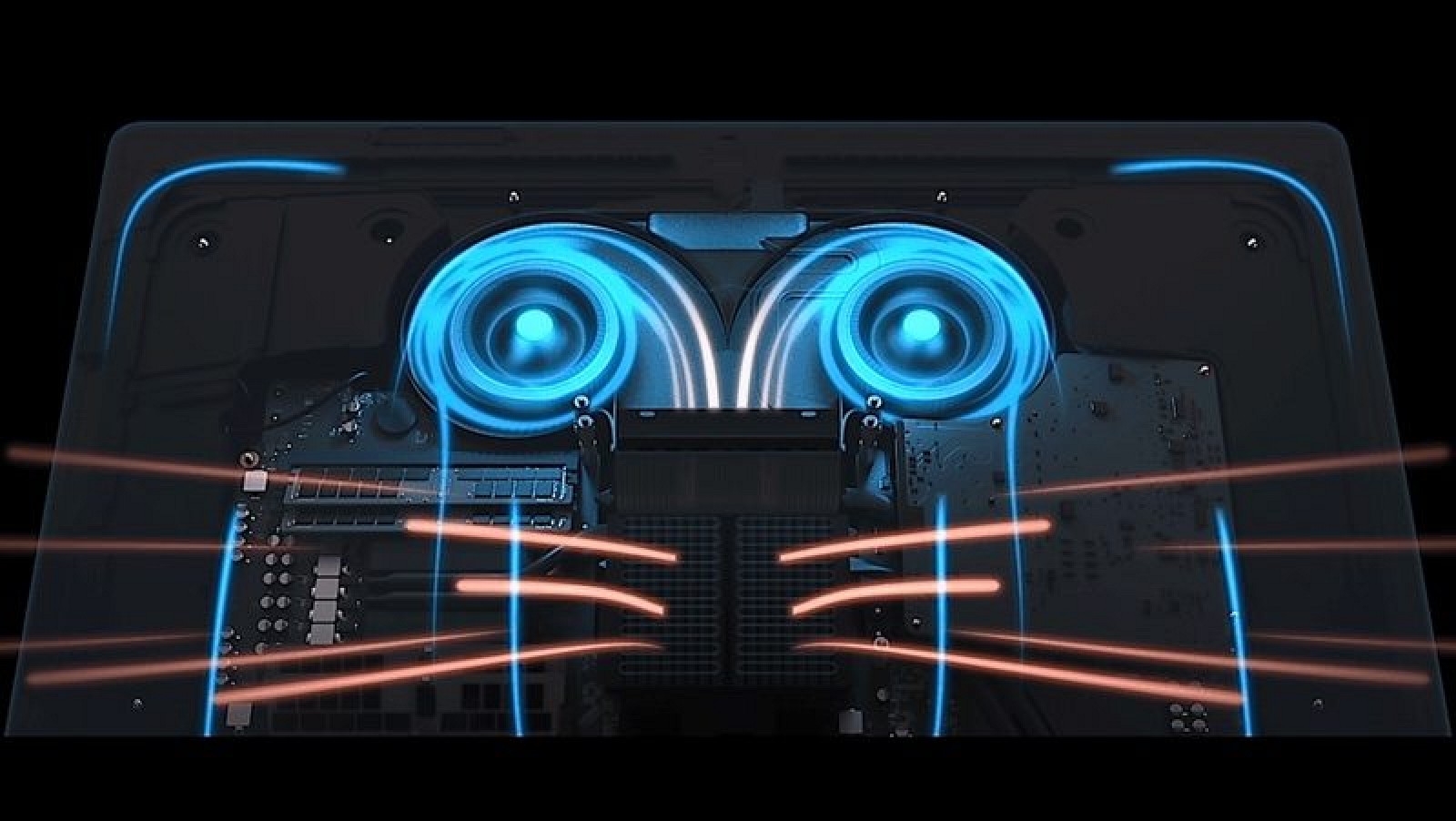 Like the regular 27-inch iMac, the iMac Pro features a Retina 5K display that supports a billion colors with a P3 wide color gamut. It has more than 14.7 million pixels and a 500 nit brightness level, which is 43 percent brighter than previous iMac displays.
To match its new space gray enclosure, the iMac Pro will ship with matching space gray accessories that will be exclusive to the high-end machine and not otherwise available to Apple users. Those accessories include a wireless Magic Keyboard with a numeric keyboard and either a Magic Mouse 2 or a Magic Trackpad 2.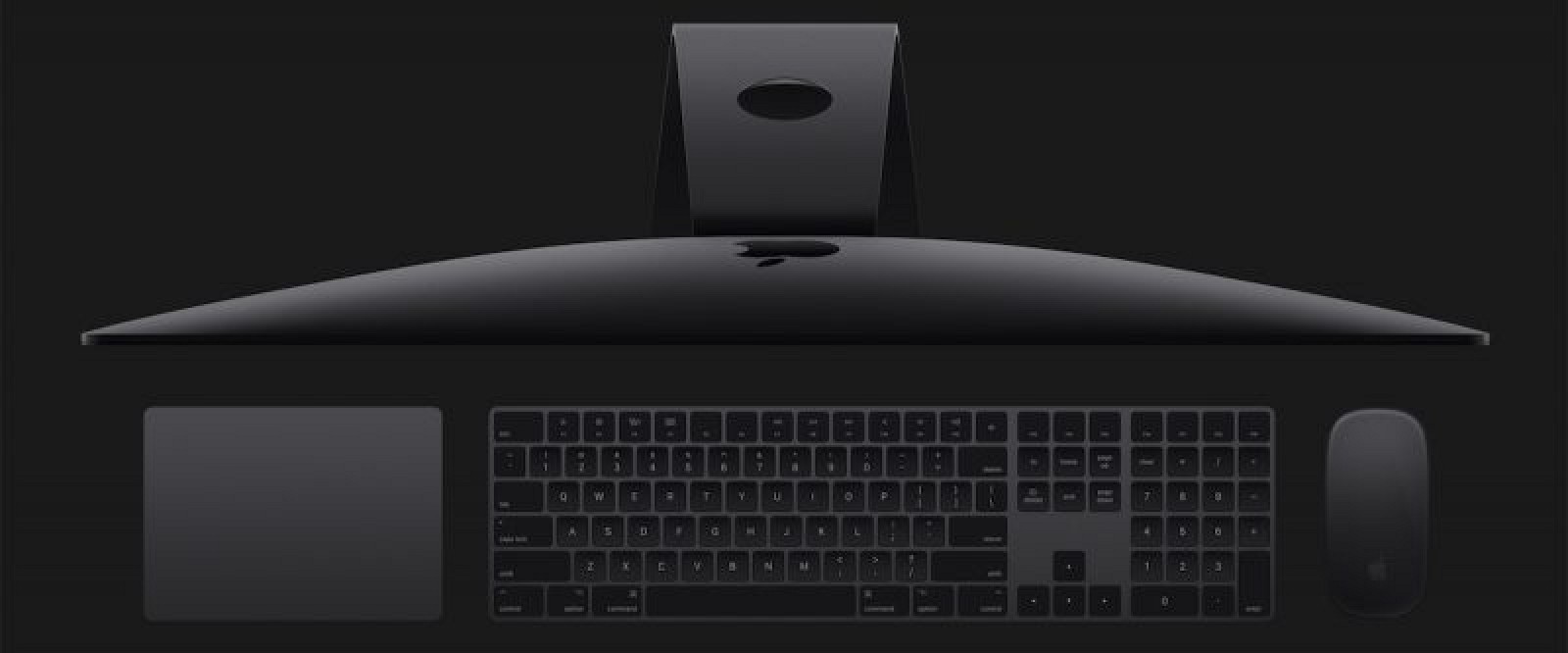 CPU and GPU
The iMac Pro uses Intel's Xeon processors with 8, 10, and 18 core chips available as optional configurations with Turbo Boost up to 4.5GHz and up to 42MB of cache.

Intel introduced new Xeon-W workstation-class processors in August, and the new chips, which use an LGA2066 socket and Skylake-SP architecture, come in 8, 10, and 18 core configurations with Turbo Boost up to 4.5GHz, 48 PCI Express 3.0 lanes, and support for up to 512GB of DDR4-2666 ECC memory. That matches up nicely with what Apple has said about the processors being used in the iMac Pro.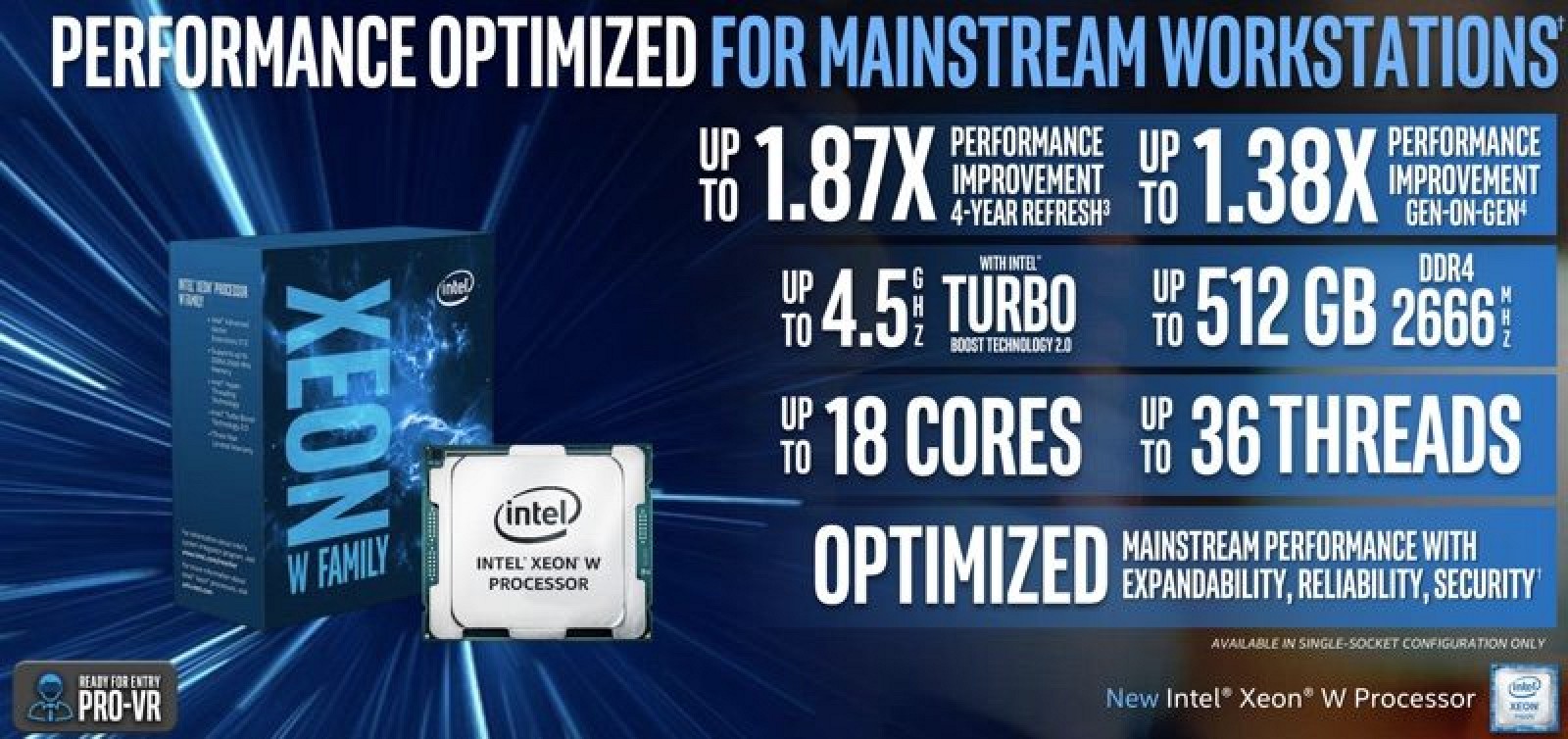 Early iMac Pro benchmarks suggest the machines will feature custom down-clocked Xeon chips that Intel has yet to announce publicly. Benchmarks have revealed a 3.2GHz 8-core Xeon W-2140B processor and a 3.0GHz 10-core Xeon W-2150B processor.
Apple may be using chips with lower frequencies in the iMac Pro for lower thermal design power.
Both iMac Pro models that have been benchmarked are significantly faster than the highest-end existing iMac. The 8-core model is about 22 percent faster when it comes to multi-core performance, while the 10-core model is about 41 percent faster.
With the advanced thermal cooling built into the iMac Pro, it supports AMD's newest Radeon Pro Vega, the most advanced graphics ever used in a Mac. It includes a next-generation compute core and up to 16GB of on-package high-bandwidth memory (HBM2) and 400GB/s memory bandwidth.
It delivers 11 teraflops of single-precision computing power and up to 22 teraflops of half-precision computation performance, meaning it's powerful enough for real-time 3D rendering and immersive, high frame rate VR. The iMac Pro, like Apple's new iMacs, supports VR hardware.
Apple says Radeon Pro Vega is more than three times faster than any previous iMac GPU, packing the power of a double-wide graphics card into a single chip.
A10 FUSION CHIP
The iMac Pro appears to be equipped with an A10 Fusion chip with 512MB RAM, according to several developers who have been digging into Bridge OS 2.0 code in mac OS.

The chip's full functionality isn't yet known, but it looks like it will enable support for "Hey Siri" functionality even when the iMac Pro is turned off.

It will also manage the booting process and security for the iMac Pro, and it could potentially be used for some sort of mobile connectivity for advanced theft protection, similar to Find my iPhone on iOS devices.
SSD and RAM
The iMac Pro can be configured with up to 4TB of solid state storage and 3GB/s throughput. It also supports up to 128GB of 2666MHz DDR4 ECC memory, which minimizes errors in data.
Other Features
THUNDERBOLT 3
There are four Thunderbolt 3 ports built into the iMac Pro, which can power up to two high-performance RAID arrays and two 5K displays at the first time. Thunderbolt 3 supports data transfer speeds of up to 40Gb/s.
10GB ETHERNET
The iMac Pro includes 10Gb Ethernet, the first time it's ever been included on a Mac. It also supports Nbase-T industry-standard 1Gb, 2.5Gb, and 5Gb link speeds.
SPEAKERS
Enhanced stereo speakers are included in the iMac Pro, which Apple says deliver a broad frequency response, rich bass, and more volume.
COPROCESSOR
Files in mac OS High Sierra suggest the new iMac Pro will include a Secure Enclave, so it may be equipped with an ARM co-processor like the MacBook Pro with Touch Bar. That means it might include a Touch Bar with Touch ID support, but Apple has not said that's a feature that will be included.
Release Date
At its 2017 Worldwide Developers Conference, Apple said the iMac Pro would be released in December, and on December 12 announced the company would begin taking orders two days later on December 14.
---
 [amazon_link asins='B072JW4TBZ' template='ProductAd' store='techjusticeus-20′ marketplace='US' link_id='141c9312-df89-11e7-bac9-1194fca4a188′]  [amazon_link asins='B0721M71PT' template='ProductAd' store='techjusticeuk-21′ marketplace='UK' link_id='299bf6a9-df89-11e7-82dc-e525f2249d9e'][amazon_link asins='B01N7TMIL7′ template='ProductAd' store='techjusticeca-20′ marketplace='CA' link_id='7107359c-dfd7-11e7-b0e9-09c1b0d3119a']