An official-looking press render of the upcoming entry-level Microsoft Lumia 550 smartphone has been leaked.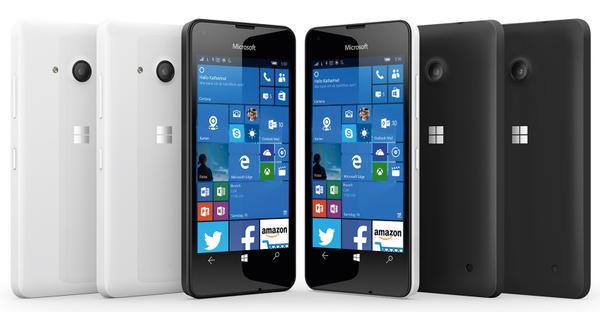 The device has already been the subject of several leaks in the past, with the most recent leak showing the smartphone in four color versions – white, red, blue, and black.
Specs-wise, the Lumia 550 is said to be powered by a Snapdragon 210 SoC and sport a 4.7-inch 720p AMOLED touchscreen. It is expected to come with 1GB RAM and 8GB expandable internal memory, and pack in a 1,905 mAh battery. In terms of camera, the Windows 10 Mobile-powered device is said to feature a 5MP rear unit and a 2MP front shooter.
The handset, along with the high-end Lumia 950 and 950 XL, is expected to be made official at the company's October 6 event next week.
Microsoft is gearing up for a big hardware launch event on 6 October centring around the Surface Pro 4 and Band 2. Lumia Phones will be big news, too, and leaks have revealed a new entry-level Windows 10 mobile device: the Lumia 550. Here's what the rumours say about the Lumia 550 specs and release date. Also see: Best Windows Phones 2015 and Best smartphones 2015.
Microsoft Lumia 550: rumoured specifications
The leaked render above shows a convincing picture of the new phone, and it looks a lot like the Lumia 640, from the front at any rate.
And thanks to some leaked slides we know about the Lumia 950 and 950 XL, plus the new 550.
If the presentation slide is accurate, the Lumia 550 will have the following specs:
5in HD screen with Gorilla Glass 3
1GHz Qualcomm Snapdragon processor,
5Mp rear camera with LED flash
2Mp front camera (optimised for Skype)
4G LTE
8GB storage plus up to 128GB via microSD
1GB of RAM
1905mAh battery
And from the render, we can only assume it will be available in glossy white and matt black. It isn't much of a stretch to believe there will be a single speaker at the bottom right of the back panel, as that's the setup for the Lumia 640, which the 550 is predicted to replace.
And if the specs are basically the same as the 640, the screen will be an IPS panel with a resolution of 1280×720 (at 294ppi if it's 5in).
There's no shutter button in the renders – that also matches the 640 – and the back cover looks to be removable to give access to the microSD slot and, hopefully still-removable battery.